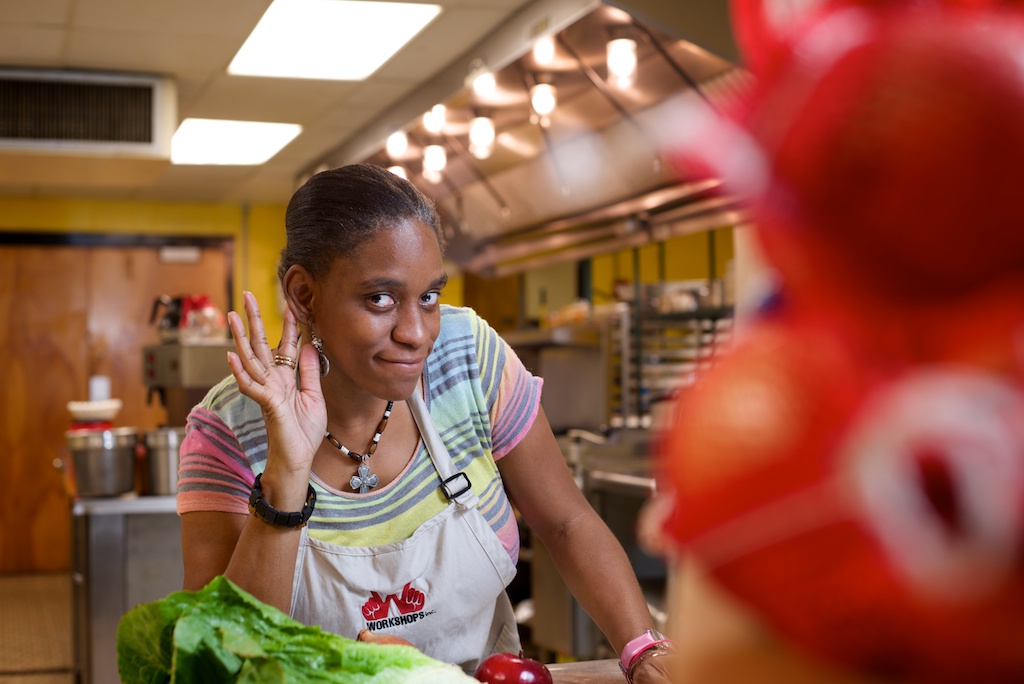 Katrina Mitchell.
Katrina has two children that live with her mother, and she works at a place called Workshops, Inc. whose mission is to help people with disabilities prepare for and find employment. I photographed her while working on an annual report for another non-profit that is a funder of Workshops, Inc. Katrina has recently lost her hearing due to an extreme high fever and a heart surgery (to fix the hole in her heart). But she has known since she was little this was going to happen eventually, so she started to learn sign language. "I miss my hearing, but I'm gonna be OK."
I ask through the sign-language interpreter, "What is Hope." Katrina says, "I really don't know what Hope means, but it (feels) like people are stirred by their dreams and goals…their place in life, maybe something they wanted, (maybe) let people know about themselves." Until I listened to the recording more closely, I could not understand what she said next. " I don't mind writing. But it won't be too long, maybe (even) short." I totally missed the suggestion she makes to write something about Hope.
I am frustrated listening to my recording of the interview. Though the sign-language translator was excellent, both of us were distracted by the process of having a signer interpreting and translating what we we were trying to say to one another. But mostly I am embarrassed by the way I appeared to be pushing too hard and not listening well enough. I must not have been feeling very helpful, or Hopeful that day.
I ask what does she Hope for the future. She says "that my kids go to college, are driving, have their own house, are married and I get to see my grandchildren." She says she has to look out for herself now, but doesn't know what will happen next. And because I was not listening hard, I butt-in during a silence and ask her about her heart murmur. I wish I had had the presence of mind to let the thought breathe a bit. I probably could have heard more, but I had cut her off.
I am going to take her up on her suggestion that she write about what she thinks Hope is, and then publish another Blog post. Is there anything that you out there want to ask Katrina?
More later!
Comments
comments